Inspired / Marty Cagan
Marty Cagan's acclaimed book Inspired offers an essential blueprint for product teams seeking to master modern best practices in discovering, designing, and delivering successful technology products.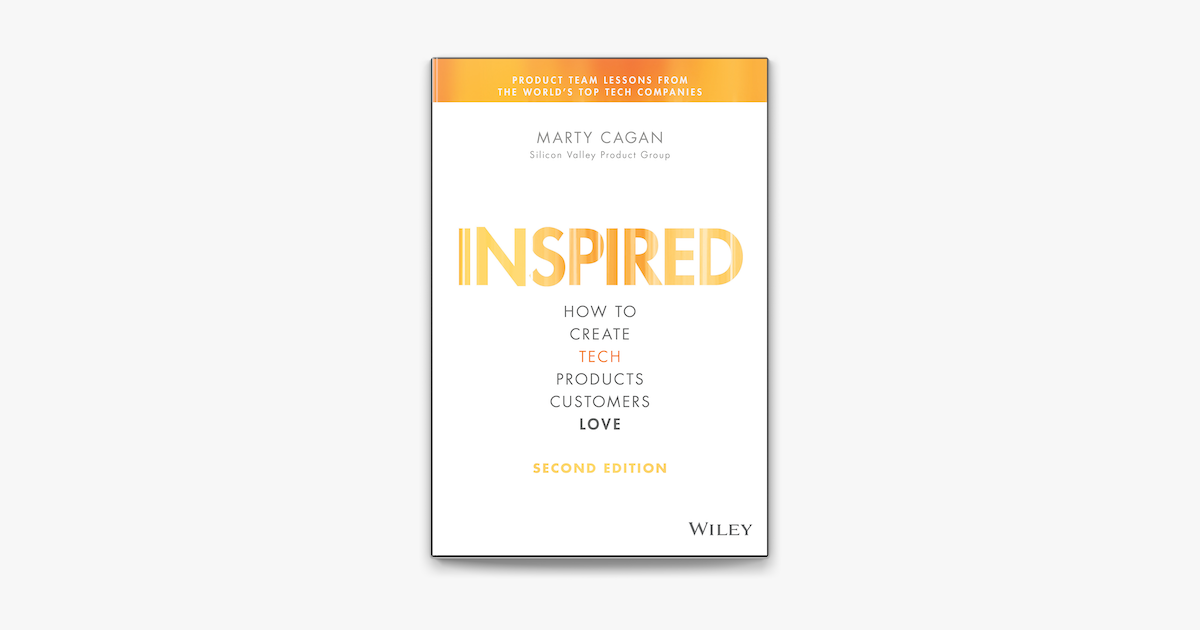 An Essential Guide to Modern Product Management
In the rapidly evolving world of technology, the role of product management has never been more critical. Marty Cagan's book, 'Inspired: How to Create Tech Products Customers Love,' provides an invaluable guide to the principles and best practices of modern product management. As a seasoned Silicon Valley product executive, Cagan distills decades of experience into a concise and insightful volume. The book offers a framework for building successful technology products that effectively address real customer problems.
Key Highlights:
Product discovery – The primary focus of the product manager should be discovering and validating the right product to build, not requirements management. Customer research and rapid iteration with end users is critical.
Product design – Design the user experience first and foremost. Incorporate customer feedback at every stage of prototyping and testing before writing code.
Product delivery – Adopt agile principles of continuous delivery and improvement. Release minimum viable products early, measure behavior, and refine based on learning.
Business success – Evaluate product opportunities based on customer value, usability, feasibility and viability. But don't overanalyze; start building and testing quickly.
Product team - Strong cross-functional team collaboration and autonomy is essential to building great products. Foster a spirit of shared purpose and creativity.
The bible for technology powered product companies
The book is structured into four main sections covering the role of the product manager, discovering the right product, designing the user experience, and delivering the product to market. Cagan argues that the responsibility of the product manager is to discover a product that delivers value to customers and facilitates its development, not just define product requirements.
To find the right product, Cagan advocates beginning with customer research to identify real problems or needs. He provides strategies for conducting ethnographic research, analyzing data, and translating insights into potential solutions. Once the target customer and problem is understood, the product manager can work with cross-functional teams to design solutions and iterate based on feedback.
The book stresses the importance of focusing on the end user experience as the primary design principle. Cagan outlines effective UX design processes and provides guidance on mapping user stories, wireframing, prototyping, and user testing. He advocates adopting an agile development workflow to iteratively build, measure, and learn.
Cagan concludes with strategies for product delivery, including economic viability analysis, implementation planning, and launch. He provides frameworks for assessing market potential and competition as part of the product evaluation process.
The Role of the Product Manager
In this section, Cagan outlines the responsibilities of a product manager, which includes discovering a product that delivers value to customers, facilitating its creation, and delivering it to market. Key responsibilities of product culture include:
Lead the product vision and strategy
Represent the voice of the customer
Drive the product roadmap and priorities
Work closely with engineering to specify and design the product
Develop business cases and go-to-market plans
Cagan argues that the focus should be on quickly discovering the right product to build, not on defining requirements. Product managers should spend more time on customer research, problem analysis, and rapid validation.
The Role of Product Managers in Driving Innovation
Cagan emphasizes that product managers play a critical role in fostering consistent innovation within product organizations. Whether at a growth stage company or top tech company, product managers drive the vision, strategy, and execution of product efforts.
Successful product managers focus on discovering valuable products that solve real customer problems. They represent the voice of the customer and gain insights through interviews, observation, and other engagement with target markets. Product managers synthesize findings to inform product hypotheses, which they rapidly validate through experiments and testing.
While engineering teams design solutions, product managers focus on business viability risks and market fit. They develop models to evaluate feasibility and test assumptions with reference customers. Product managers also craft the roadmaps, set priorities, and convey the vision to align the organization.
With an effective, lightweight discovery process centered on the end user, product managers can deliver successful products consistently. Cagan notes product managers should facilitate development without excessive project management and requirements dictation. The most valuable resources are empowered technology product managers and teams collaborating creatively to achieve shared objectives.
Discovering the Right Product
This section provides a process for discovering the right product to build through customer insights. Key steps include:
Gather customer feedback through interviews, observation, surveys etc.
Identify customer needs, problems and jobs-to-be-done
Define target customer segments and compose customer personas
Translate insights into products hypotheses and potential features
Prioritize ideas and identify risks to test assumptions quickly
Cagan stresses the importance of continuous learning through experiments and testing with real customers early in the product development process.
Designing the User Experience
Here Cagan emphasizes designing the user experience as the primary focus before implementation. He outlines processes for UX design including:
Create user stories to outline critical interactions
Design low-fidelity wireframes and storyboards
Build interactive, high-fidelity prototypes for user testing
Iterate rapidly based on user feedback
Ensure usability and simplicity are prioritized
The ultimate goal is to intimately understand the end user experience before writing code. High fidelity prototypes mitigate the need to build the product for testing.
Mitigating Risks in Product Discovery
Cagan warns against over-analysis and stagnation during product discovery. However, he notes key risks that product managers should evaluate:
Business viability risks related to the target market, pricing, and business model
Technology feasibility risks in the solution architecture and plan
Usability risks in the end user experience design
Testing major assumptions early and with real users
MVPs, prototypes, and value testing with customers help mitigate risks. Planning for appropriate levels of qualitative value testing versus quantitative validation testing is needed based on the type of risks and maturity of the product.
Reference customers have been instrumental in supporting our technology products, especially as our growth stage company working to navigate the challenges posed by past failed product efforts. Business viability risk is greatest for early stage startup working on consistent product innovation. Startups need an effective yet lightweight process for running discovery and target market expansion. Hiring highly capable leaders in the product organization will help build this foundation.
In the ever-evolving domain of technology product management, the product team plays a pivotal role. Serving tech products customers efficiently is at the heart of every decision the product team makes. Product discovery is one such process where the product team spends a considerable amount of time. Through rigorous product discovery phases, the product teams aim to understand the nuanced needs of tech products customers. These insights directly influence how product teams strategize and prioritize their efforts. Business success is closely tied to how effectively product teams can anticipate and meet the demands of tech products customers. The mission for every product team member is clear: ensure that they can deliver technology products that resonate with their target audience. With a robust approach to product discovery, product teams have a better shot at achieving this. The symbiotic relationship between tech products customers and the product team shapes the trajectory of technology product management.
Delivering the Whole Product
In this section, Cagan shifts to strategies for delivering a successful product to market. Key steps include:
Evaluating feasibility, viability, competitiveness
Planning the technology architecture and rollout
Developing the business case and pricing model
Building operational readiness for launch
Measuring performance post-launch and optimizing
Cagan provides frameworks for assessing the market opportunity, analyzing the technology and business risks, and building an effective go-to-market plan.
The Characteristics of Successful Product Organizations
At leading tech companies, product managers play a key role in discovering and delivering technology products users love. During product discovery, tech product managers immerse themselves in understanding customer needs and identifying opportunities. They guide the product team in quickly validating potential technology solutions through continuous testing and iteration. To create successful technology products, product managers synthesize user insights, evaluate feasibility, and rally the product team around a shared vision. With an empowered, cross-functional product team focused on the end user experience, technology product managers can drive the rapid experimentation and learning needed to bring innovative products to market. Successful tech companies frequently deliver technology products to customers. But creating technology products is not easy.
Cagan emphasizes that the top tech companies have product organizations that consistently deliver innovative products users love. These successful technology product management teams exhibit several common attributes:
A compelling product vision and strategy that aligns the entire organization
Empowered product managers that represent the voice of the customer
Lightweight discovery processes focused on rapid iteration and testing
An engineering team structure that enables agility and autonomy
A culture of creativity that values rapid experimentation over project management
Customer obsession and continuous learning from user feedback
Whether an early stage startup or a growth stage company, Cagan argues the same business objective of discovering and delivering a valuable product remains critical. Established companies can struggle with legacy processes that stifle rapid innovation. Adopting the core tenets of successful product teams allows any organization to consistently innovate. As you expand, the business development risk becomes more apparent, but focusing on our own product efforts can be a mitigating factor.
A long-established company often faces challenges that startups don't have; however, their agility allows them to immediately leverage lightweight processes for quick discovery and delivery. While startups focus on customer engagement through technology-powered products, an incumbent can consistently deliver solutions that solve real customer problems, even with limited product ideas, by ensuring their business objectives align with real-world demands.
In the best companies, delivery management and investment strategy are key factors. Empowered product teams prioritize these areas to navigate major risks, ensuring their initiatives align with the broader goals.
Empowering Teams to Innovate
Cagan argues a company's most valuable resource is its product teams. He advocates for structuring empowered, cross-functional teams with clear ownership. An effective structure combines technology, design, and business resources into a cohesive product team.
Product managers play a key role in providing vision and strategy for their product area. They represent the voice of the customer and facilitate building solutions. However, Cagan notes product managers should not dictate requirements. The engineering teams must have autonomy to collaborate on creative solutions.
Fostering a spirit of shared purpose and creativity, while reducing organizational impediments, allows product teams to solve customer problems and achieve business outcomes faster.
Conclusion
Inspired provides an excellent guidebook to modern product management that neatly distills both mindset and methodology. Cagan's insights reflect current best practices while remaining evergreen and relevant. The book is an indispensable resource for any aspiring or seasoned product manager looking to build products that deliver maximum value to customers. Inspired belongs on every successful product organization and leader's bookshelf.