2023's BEST product analytics tools
Understanding user behavior is the key to creating delightful product experiences, and robust analytics provide the insights teams need to optimize at every step.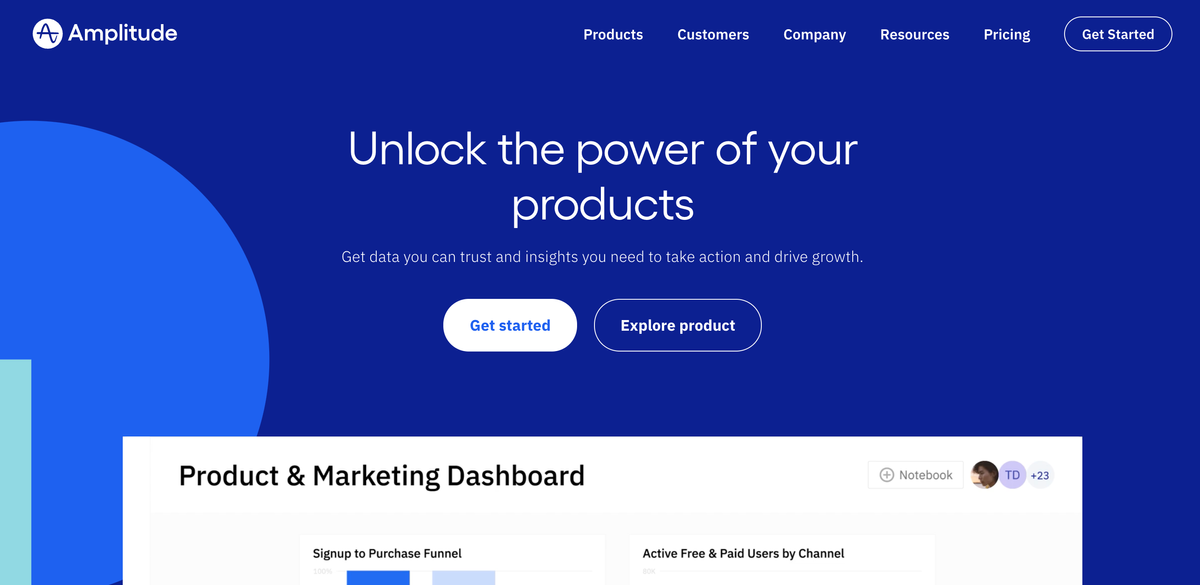 Understanding user behavior is the key to creating delightful product experiences. But how do you unlock those behavioral insights?
Powerful product analytics platforms provide the data and tools teams need to dissect the user journey at each touchpoint. From automatic event tracking to qualitative feedback, these solutions shine a light on how customers engage with your product.
Leading options like Amplitude, Posthog, Mixpanel, Heap, and Pendo combine robust analytics with in-app engagement so you can measure experiences, identify issues, and optimize seamlessly.
Read on to explore how these platforms can help you drive product adoption, boost retention, and fuel growth through data-driven decision making. With the right analytics, you can create products users love.
Current Leader
Amplitude – its feature set and FREE startup tier makes this an easy platform to say yes to. The company invested in additional UX and CDP features this year and it closes any previous gaps with tools like Mixpanel.
Key Product Capabilities
Understanding user behavior
Product analytics help product managers understand how users interact with their products, which features are popular, and where users may face challenges.
Identifying areas for improvement
By analyzing user behavior and engagement data, product managers can identify areas where their products can be improved, leading to better user experiences and increased customer satisfaction.
Making data-driven decisions
Product analytics provide product managers with the quantitative data they need to make informed decisions about product development, feature prioritization, and resource allocation.
Measuring product performance
Product analytics enable product managers to track key performance indicators (KPIs) and measure the success of their products against predefined goals.
Personalizing user experiences
Product analytics can help product managers create personalized experiences for users by understanding their preferences and behavior patterns.
Validating hypotheses
Product analytics can help product managers test their assumptions and hypotheses about user behavior and product performance, ensuring that their decisions are based on accurate data.
---
Amplitude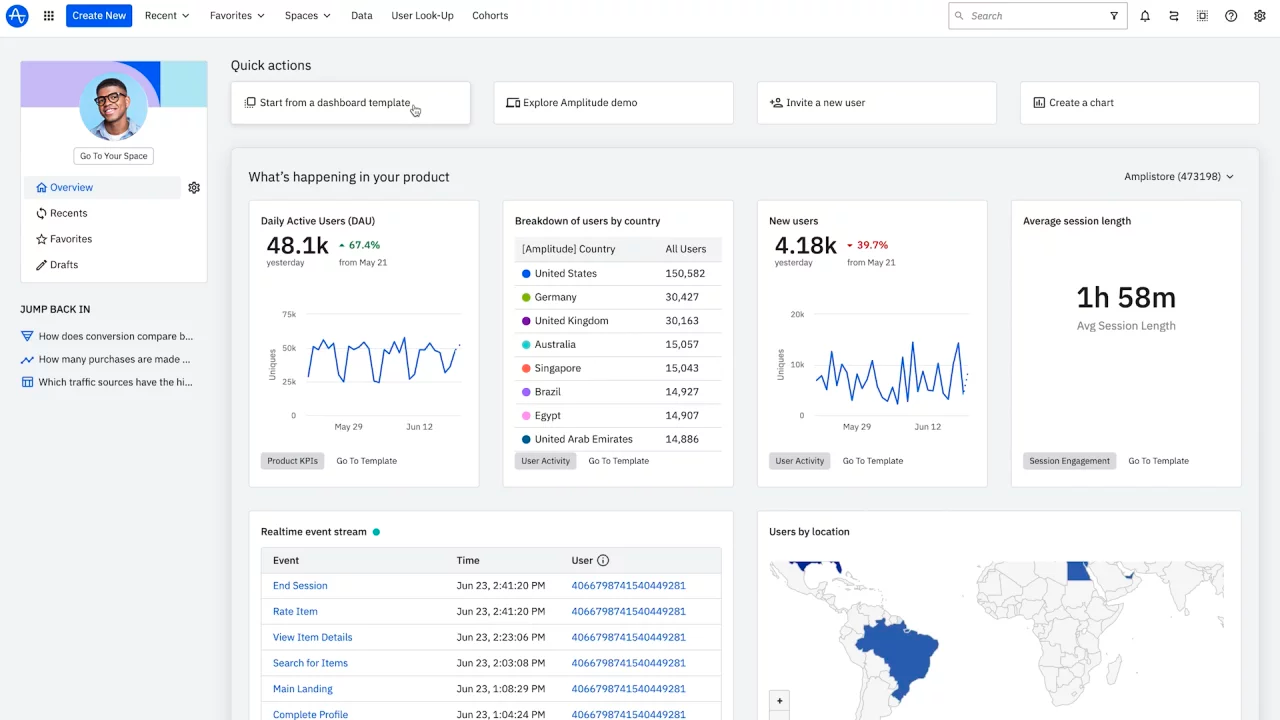 Amplitude is one of the most popular product analytics platforms, providing detailed behavioral insights to help companies optimize their digital products. Key capabilities include:
Event Tracking: Automatically capture every user action as an event, such as button clicks, page views, purchases, etc. This enables granular analysis of the entire user journey.
User Profiles: Create unified user profiles by stitching together events data with user properties like device type, location, referral source etc. Enables targeted analysis of key user segments.
Funnel Analysis: Visualize and analyze how users move through key workflows and conversion funnels. Identify drop off points and optimization opportunities.
Retention Analysis: Measure user retention cohorts over time and analyze factors impacting retention and churn. Critical for reducing churn and increasing product stickiness.
Feature Adoption: Track usage and adoption of key features to measure engagement and optimize product onboarding.
A/B Testing: Run experimentation and analyze impact on metrics like conversions, engagement, retention etc.
Data Integrations: Integrates event data with data from marketing, sales, support tools for holistic analysis.
Flexible Segments: Dynamically segment users based on events, properties, time period etc. to get actionable insights.
I generally consider Amplitude to be the best analytics and behavioral insights platform on the market today. There are several tools that are better at a specific capability or easier for beginners, but you'll inevitably migrate to Amplitude due to its capabilities.
With powerful analytics capabilities tailored for digital products, Amplitude provides the insights teams need to understand user behavior and identify opportunities to drive growth.
Read our deep dive review here ↓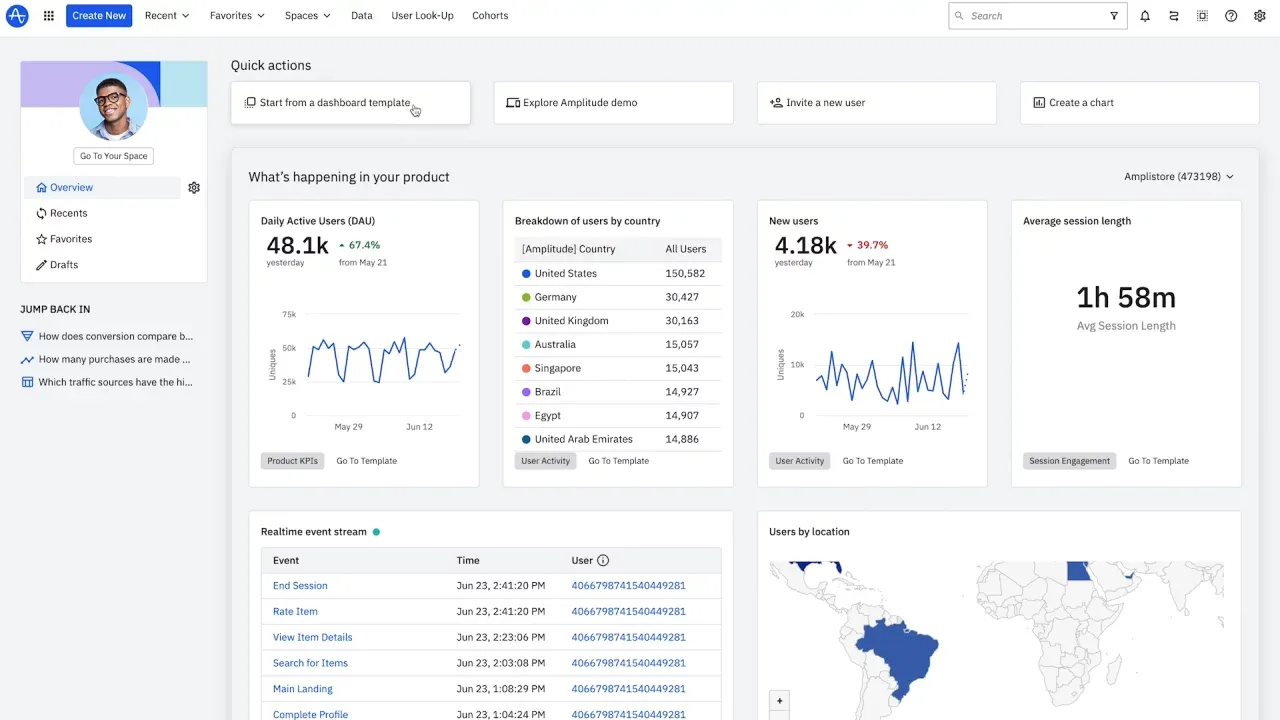 ---
Posthog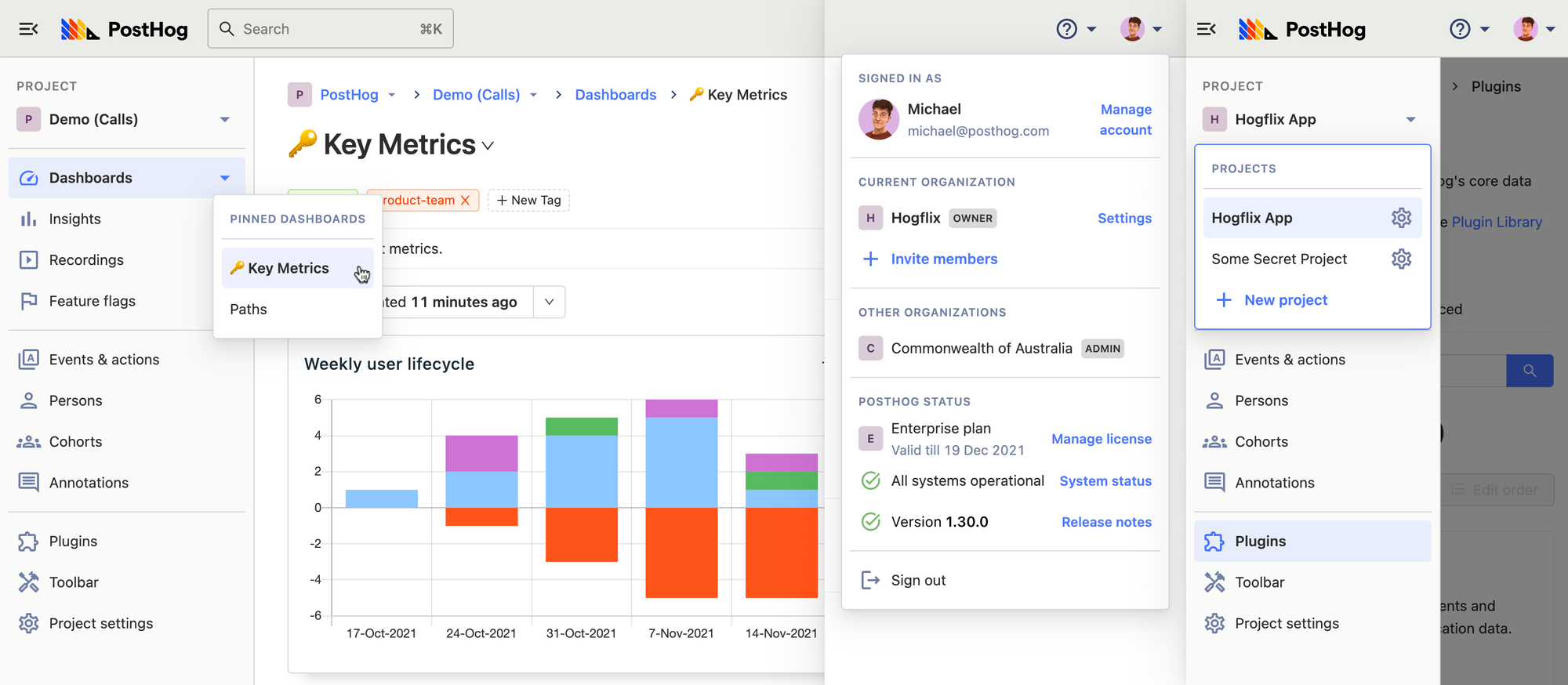 Posthog is a relatively new, opens-ource player in the product analytics space that has quickly made a name for itself by providing robust analytics tools in an easy-to-use package.
Posthog offers an open-source product analytics platform that allows product teams of all sizes to better understand their users. Some of the key capabilities include user behavior tracking, feature usage analytics, funnel and retention analysis, and integration with other tools through Posthog's API.
Intuitive UI: Posthog's user interface is clean and simple to navigate. Within minutes you can start analyzing event data without complex setup or coding.
Broad integration: Posthog offers over 100 integrations with tools like Slack, Discord, Stripe, and more. This makes it easy to connect Posthog to your existing stack.
Scalability: Posthog utilizes a scalable architecture that allows it to handle large volumes of data while remaining fast. This makes it suitable for both early-stage startups and large enterprises.
Affordable pricing: Posthog offers a free open-source tier and inexpensive paid plans starting at $99/month. Compared to other analytics tools, Posthog is a budget-friendly option.
Posthog is a great choice for startups that want powerful analytics without the costly enterprise price tag. It's also well-suited for marketing, product, and engineering teams who want self-serve access to user data to inform their decisions. Be careful though – the enterprise features will cost you far more than Amplitude if you're a small startup.
For lean teams that want robust behavioral analytics, Posthog is a leading choice. The platform makes it easy for product and growth teams to instrument, analyze, and take action on product data all in one place. If you're looking for an affordable analytics solution with enterprise-level capabilities, Posthog is worth a close look.
Mixpanel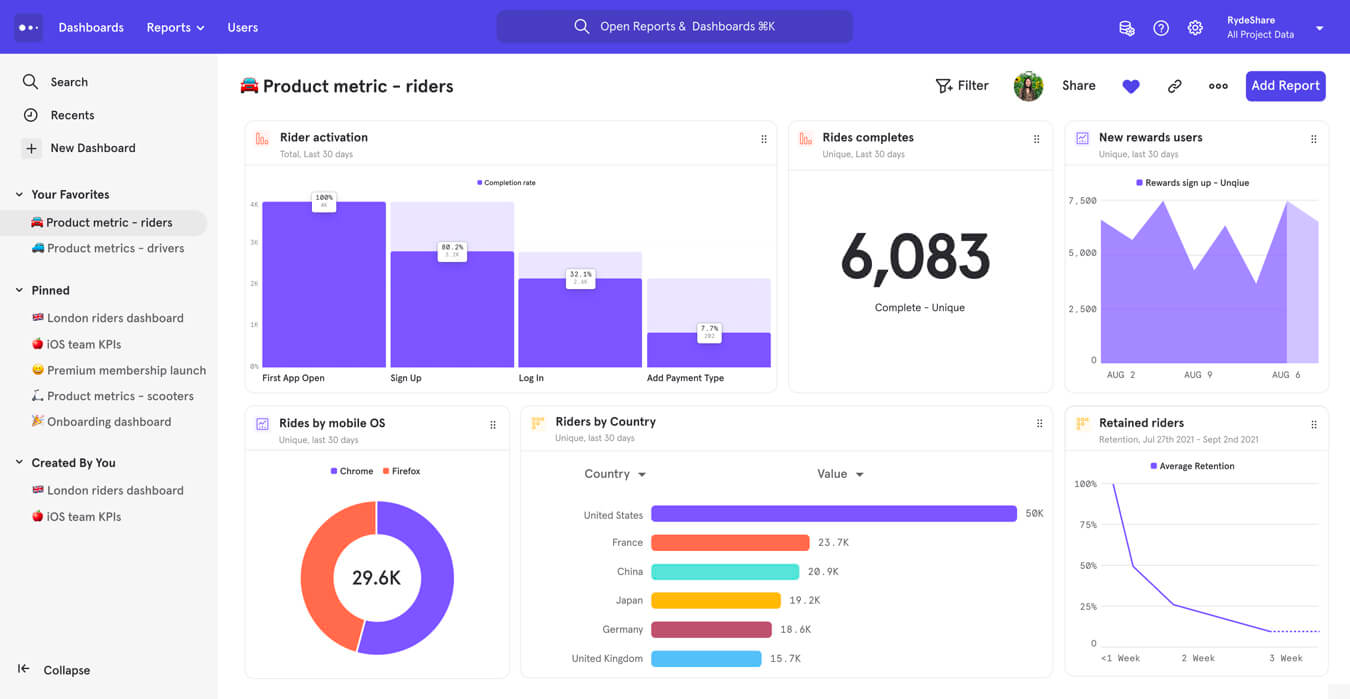 Mixpanel is a leading product analytics platform used by over 26,000 companies to understand user behavior, optimize product experiences, and make data-driven decisions. Mixpanel provides comprehensive analytics capabilities including automatic event tracking, funnel analysis, cohort reports, user segmentation, A/B testing, and data integrations. Here are some key capabilities of Mixpanel as a product analytics platform:
Event Tracking: Mixpanel automatically captures events in your web or mobile app like button clicks, page views, form submissions etc. This enables detailed analysis of user actions.
Funnels: Build conversion funnels to analyze how users move through key workflows and identify optimizations to improve conversions.
Cohort Analysis: Analyze how user behavior changes over time by grouping users into cohorts by sign-up date, first purchase date etc. Identify trends and engagement patterns.
User Profiles: Create unified profiles for each user to analyze their journey over time. Profile enrichment allows tying user actions to properties like location, referral source etc.
With its robust analytics capabilities tailored for digital product teams, Mixpanel is trusted by over 26,000 companies globally.
---
Google Analytics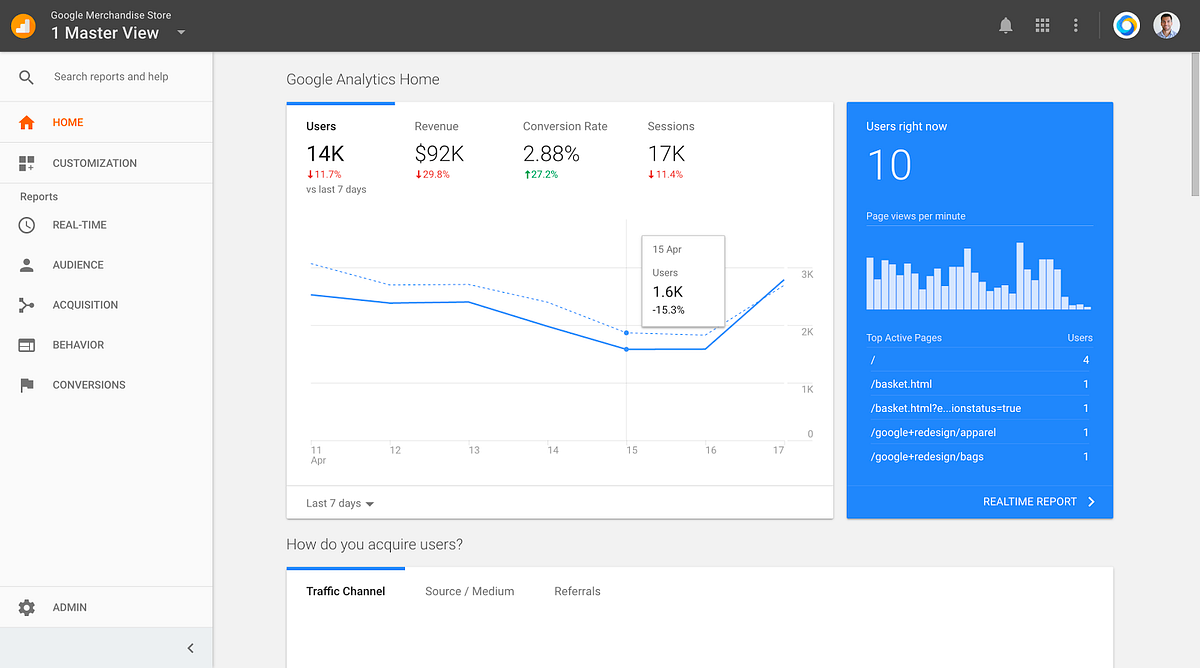 Google Analytics is the most widely used web analytics service, providing robust and free analytics for websites and apps. It offers product teams insights into:
Traffic Sources: Understand where website visitors are coming from - direct, organic search, social media, referrals etc.
Visitor Behavior: Analyze how visitors interact with the site, including pages visited, navigation flows, button clicks, scrolling and other actions.
Conversions: Set up and track goals/conversions like signups, purchases, downloads etc. See conversion funnel and optimize.
Campaign Tracking: Measure performance of marketing campaigns, segments users based on traffic source.
Segmentation: Flexible segmentation options to analyze specific user groups based on behavior, traffic source etc.
Real-Time Analytics: View and analyze visitor data in real-time to get instant insights.
Integrations: Seamlessly integrates with other tools like advertising platforms, CRM systems etc.
Custom Dashboards: Create customized reports and dashboards tailored to key metrics and goals.
With its free access and rich feature set optimized for websites and apps, Google Analytics is the go-to platform for understanding visitor behavior and engagement on sites. The insights it provides are indispensable for digital product teams looking to enhance customer experience, increase conversions, and drive growth through optimization.
---
Heap Analytics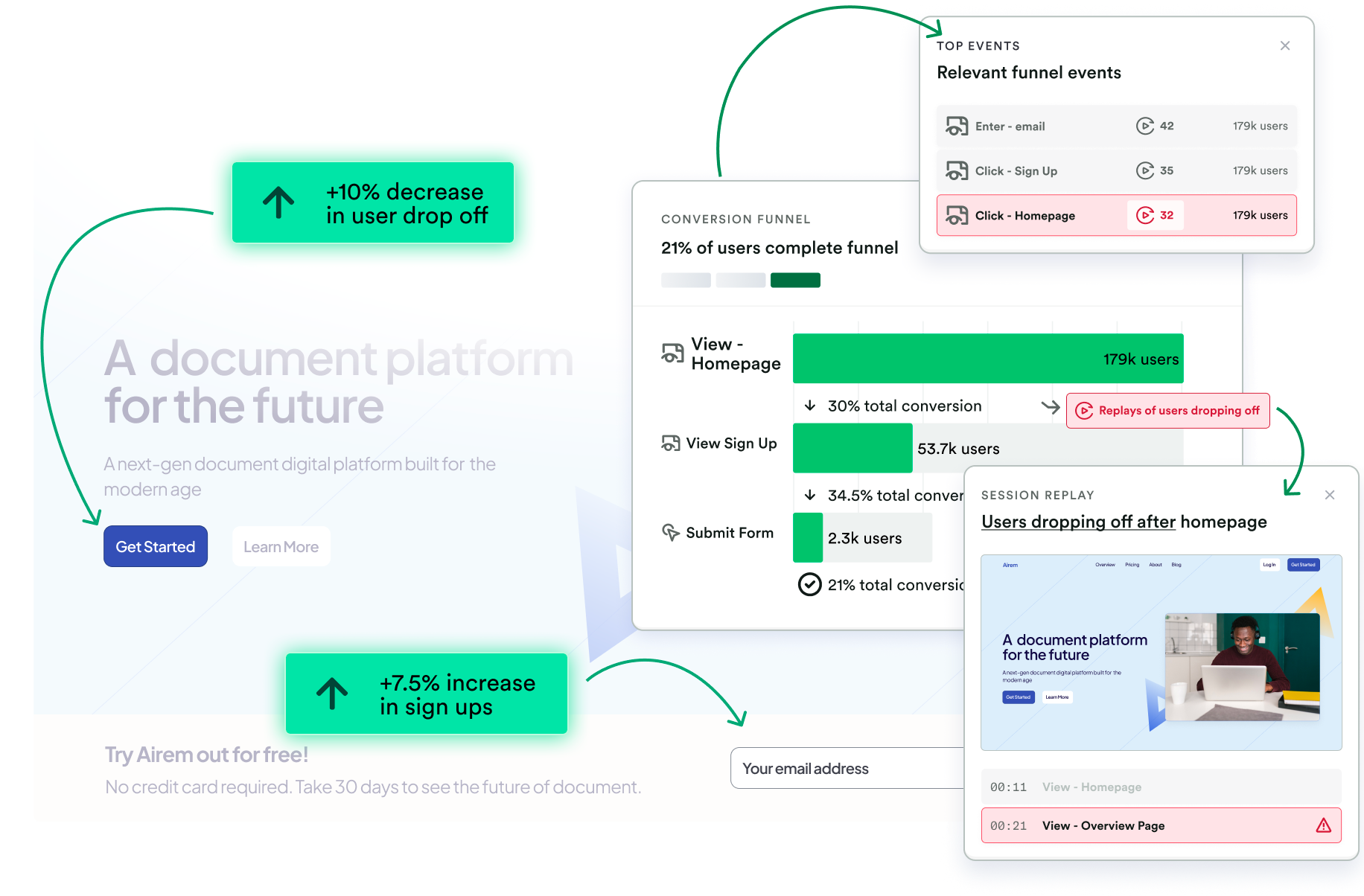 Heap is a product analytics platform that provides automatic and retroactive tracking of user actions on web and mobile apps, enabling product teams to analyze user behavior. Key features include:
Automatic Event Tracking: Heap automatically captures every user interaction on web or mobile - clicks, taps, page views etc. Requires minimal implementation.
Retroactive Analysis: Analyze historical user actions without prior instrumentation. No need to predict what to track in advance.
Funnel Analysis: Visualize user flows through conversion funnels to optimize by finding drop-off points.
User Timelines: Reconstruct timelines of individual user actions to understand detailed journeys.
With its automated and flexible analytics, Heap provides broad and deep insights into user actions on digital products. This enables informed product decision making.
---
FullStory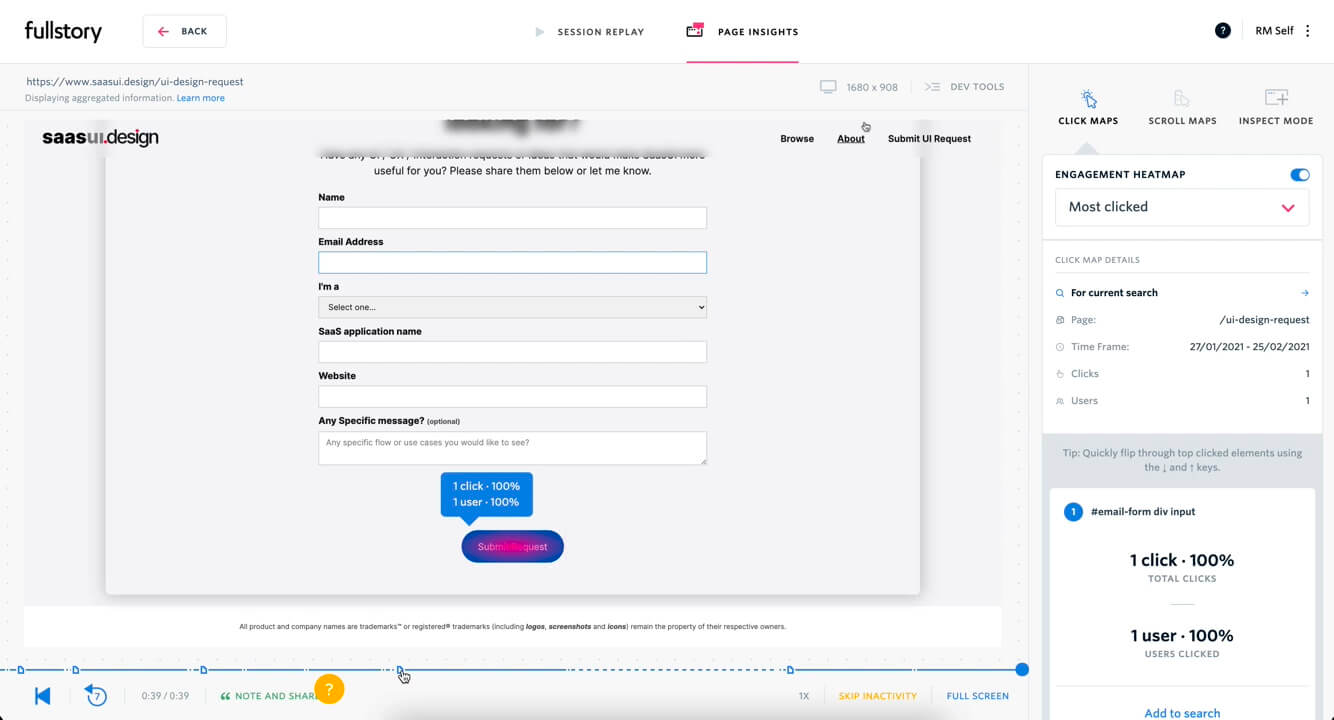 FullStory is a powerful digital experience intelligence solution that helps product teams understand user struggles, optimize journeys, and improve conversions. Key capabilities include:
Session Replays: FullStory captures a visual replay of all user sessions across devices, letting teams see exactly how customers use a product. Teams can replay sessions to understand behavior, pinpoint issues, and identify optimization opportunities.
Analytics: FullStory provides a robust analytics layer on top of session replays to analyze trends, cohorts, funnels, conversions, rage clicks, abandoned journeys and more. Teams can slice and dice data to surface insights.
Machine Learning: Leverages ML to auto-detect struggles like rage clicks, form abandonment etc. and prioritize issues for review. This augments human intelligence.
Customer Journey Mapping: Maps common user journeys end-to-end to find recurring pain points and opportunities to improve critical journeys and workflows.
Integration: Over 250+ integrations with leading tools like Amplitude, Heap, Google Analytics to bring together multiple sources of data for holistic analysis.
With its comprehensive digital experience intelligence combining multiple data sources, FullStory provides the rich insights product teams need to deeply understand customers and meaningfully improve experiences. This drives better product outcomes.
A digital experience intelligence platform combining session replays, analytics, and machine learning to help product managers optimize complex user journeys.
---
Pendo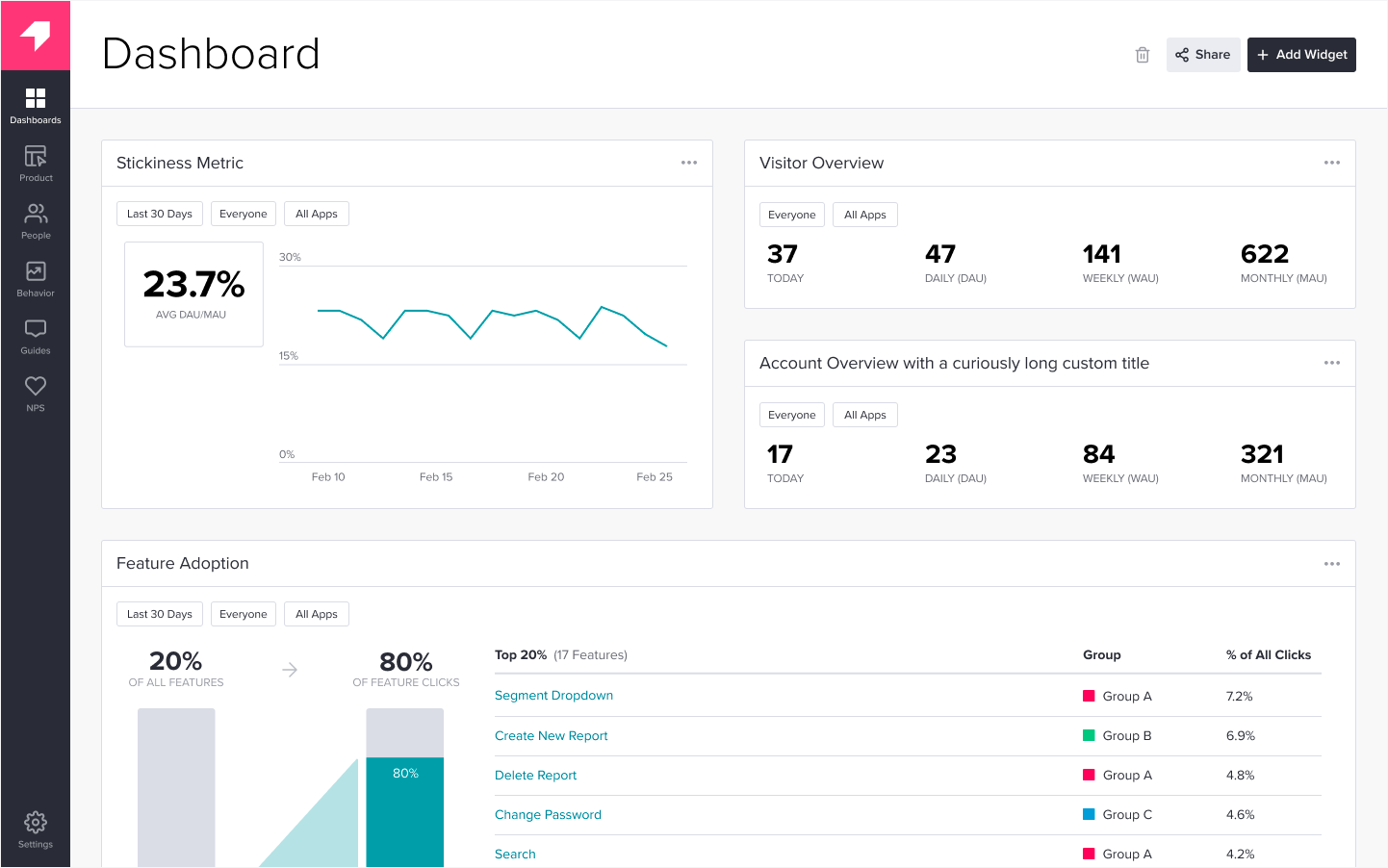 Pendo provides robust analytics combined with user engagement capabilities to help product teams drive adoption, retention and growth. Key features include:
Behavioral Analytics: Tracks every user action to provide insights into feature adoption, churn patterns, sticky behaviors and more. Helps identify optimization opportunities.
Feedback Surveys: In-app surveys make it easy to collect qualitative user feedback tied to behaviors and contexts. Identify pain points and improvement ideas.
User Segmentation: Advanced segmentation options based on behavioral and profile data to analyze trends specific to key user cohorts.
With its combination of behavioral analytics and in-app engagement, Pendo provides the insights and capabilities to help product teams tackle critical challenges like driving adoption, retention and growth.
A user analytics and engagement platform with behavioral analytics, qualitative feedback capabilities, and in-app messaging to improve user onboarding and retention.